Professional Golfer- Nicola Bennett, whose ambition is to be number one in the world within the next 3 years, was a very welcome visitor to the High Wycombe campus recently. She spoke to HND students about the level of aspiration and drive required to be the very best.
Nicola shared great insights into life as a professional Golfer and the balancing act which she has to sustain within her daily life. A typical week includes hours of daily practice, defining nutritional requirements, strength and conditioning refinements, flexibility development, time spent on the mental side of Golf, and weekly management and finance meetings with her agency. This all has to balanced with tournaments, events and pro-am requirements.
She has recently returned to the UK having played in Johannesburg and Marbella, and is booked in to play in 55 events during the coming year. In a previous promotional event she had the honour of advising Barack Obama, while other promotional situations have seen her rub shoulders with the likes of Mike Tindall and Ryan Giggs.
She is avid about her own personal and professional development- which was the fulcrum of her talk.
On her time at BCG, Nicola said: "I enjoyed going into speak with the students. I've worked with Rich for a while, and he invited me to come into the group and speak about what we do. I also was able to speak about my personal and professional development plans, and how committed you have to be. I hope everyone gained from that".
Richard Dean expressed the rationale for her visit and said "It is hugely valuable for students to understand how much application is involved in being elite. Nicola opened a few eyes with her insights, and she also went further and offered practical life-skills advice, which I can verify- she practices assiduously. She is such a hard-working, diligent professional, and deserves every success that she attains".
Student Chris Savage added "Having Nicola visit us was a great opportunity to help visualise the life of a professional athlete, giving us tips and advice on how to stay focused with any life goals. Allowing us to give an interview also gave us useful information for our assignment, asking relevant questions to use as a reference, giving us a chance to reach the higher grades".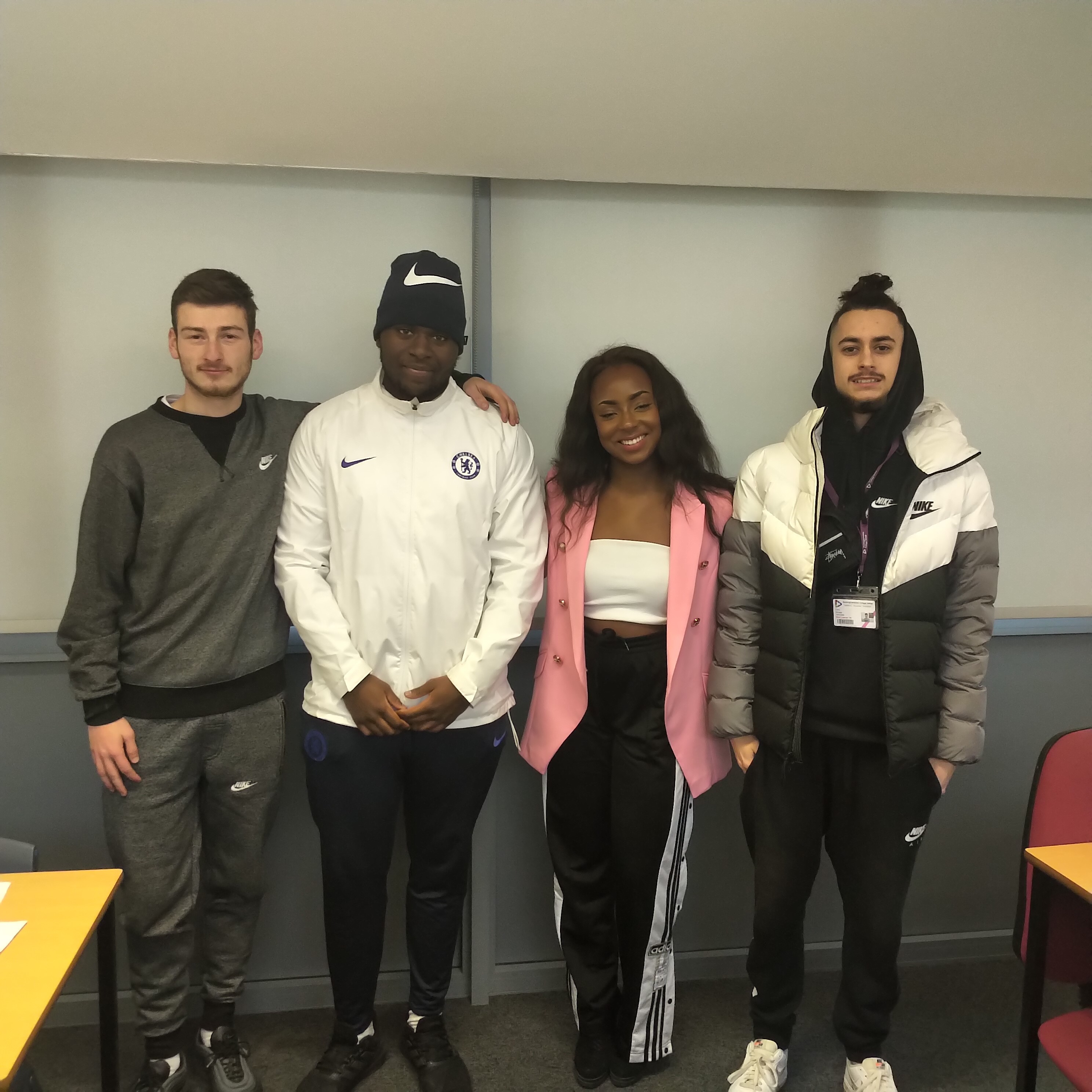 L-R: Joseph Anning, Nathan Jopp, Nicola, Chris Savage
Interested in learning more about our Sports, Football and Leisure courses? You can find out more here!