We are thrilled to share the fantastic news that Kymani Charles, 2020 graduate of the Level 3 Music Performance course at Buckinghamshire College Group, has been offered a place at Rose Bruford College of Theatre & Performance for a degree on the BA (Hons) Actor Musicianship course.
Kymani's journey from musician to actor musician started just over three years ago when Irene Rambota, Course Leader for Acting for Stage and Screen, invited him to compose music for the Level 3 Actors' production of The Recruitment Officer, written in 1706 by George Farquhar. Irene says, 'Kymani agreed and played live original music for three hours every night … as a 16 year old Level 2 student! Kymani's creative artistry is quite extraordinary. That first collaboration was such a privilege to witness, as were all the subsequent ones. Kymani was able to understand not only the mood of each scene, but also the music and rhythm of Farquhar's complex text, even adding perfect chords during the dialogue for dramatic or comedic emphasis.
We were so lucky that Kymani remained part of the Level 3 Acting family for the next three years, composing and playing live music for all our productions, while gradually taking on acting roles as well including William Shakespeare's A Midsummer Night's Dream, Charles Dickens' David Copperfield and Great Expectations, and many more.

After graduation, Kymani continued to maintain links with the Level 3 Acting course even during lockdown. When the Level 3 Actors' 2020 Christmas stage production, Struggle in the Snare, was cancelled, we had to adapt our storytelling skills for Zoom. You can witness Kymani's musical and acting talents during the live recorded online performance available at the link below.
https://www.youtube.com/watch?v=wbppeDhl1I4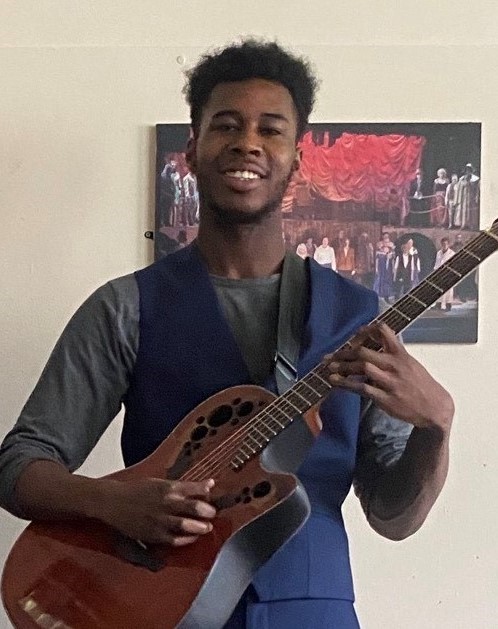 Kymani composed and played live original music throughout the online show and, also, kindly covered for Mr Darcy on the recording due to cast illness. We are all so grateful to Kymani for his time, generosity, creative inspiration and wisdom and for continuing to share his talent and unique artistry with us. We wish him all the best for his exciting new adventures at Rose Bruford!