Buckinghamshire College Group in conjunction with construction giant Eiffage Kier is launching exciting new pathways into construction this month with two and three week courses that are all completely free of charge.
For those looking for a physical hands on role or others seeking a move into construction management, these short courses, taught either at our campuses in Aylesbury or High Wycombe, have been developed to equip applicants with the skills necessary to allow them to progress in their chosen field.
Entry into Construction programme
Whether you are new to the construction industry, unemployed or just considering a career change then this CITB Construction Skills hands on role will not only provide you with a valuable CSCS labourers Green Card but will also include on-site induction with civil engineering and construction giant Eiffage Kier. Specific aspects of the course include:
Units from the C&Q Award developed with Eiffage Kier
CITB Health & Safety
CSCS Test
CSCS Labourers Green Card
British Safety Council Award in Emergency First Aid
British Safety Council Award in Manual Handling
Eiffage Kier On-site Induction Days
Courses run over a three-week period on a rolling programme available over 50 weeks of the year until March 2020, and for those who are currently working and want to get into the construction industry we have weekend and evening programmes too. Additionally you will get free kit for working on a construction site, which includes boots, a pair of trousers and two branded polo shirts.
By undertaking this free CITB funded programme, you will be able to progress to either a full-time programme in construction or an apprenticeship in Level 2 Ground Works, as a Level 2 General Operative or as a Level 2 Multi-Skilled Operative.
Construction Management programmes
If you are looking to get into a management role within the construction industry, are unemployed or just considering a career change, then we have two further courses, which are flexible, run over two weeks and are again totally free of charge.
Option one is an Institution of Occupational Safety and Health (IOSH) Managing Safely course with a practical step-by-step guide and a hands-on business focus. This innovative course is both engaging and inspiring and provides the knowledge and tools required to manage safely, covering health, safety and environmental basics in a single programme.
Option two, which is aimed specifically at attracting more women into construction, is an Institute of Environmental Management and Assessment (IEMA) course for those who have only recently become involved in environmental management or if environmental management is an integral part of a wide range of responsibilities.
Environmental managers are playing an increasingly important role in today's society and are employed by higher education institutions, utilities and construction companies, government agencies, local government departments and processing/manufacturing companies.
Speaking about the new courses, David Lowery, Director – Main Works Civil Contracts for Eiffage Kier said: "Working alongside training providers and the local community, we will give people the opportunity to step into a fulfilling career in construction and civil engineering. This will help us deliver our vision to transform our industry, influence future generations and leave a legacy that improves people's lives."
Karen Mitchell, Principal and Chief Executive for the college added: "Buckinghamshire College Group is delighted to be working in partnership with Eiffage Kier to deliver this CITB Skills funded project. The programmes provide local young people and adults with a great opportunity to learn skills, gain qualifications and a job ready license to work in the Construction Industry. The courses are open to all and we are hoping, in particular the IOSH and IEMA programmes will encourage women who are interested in working in the Construction Industry to participate."
You can find out more about all of these free courses and book your place by visiting here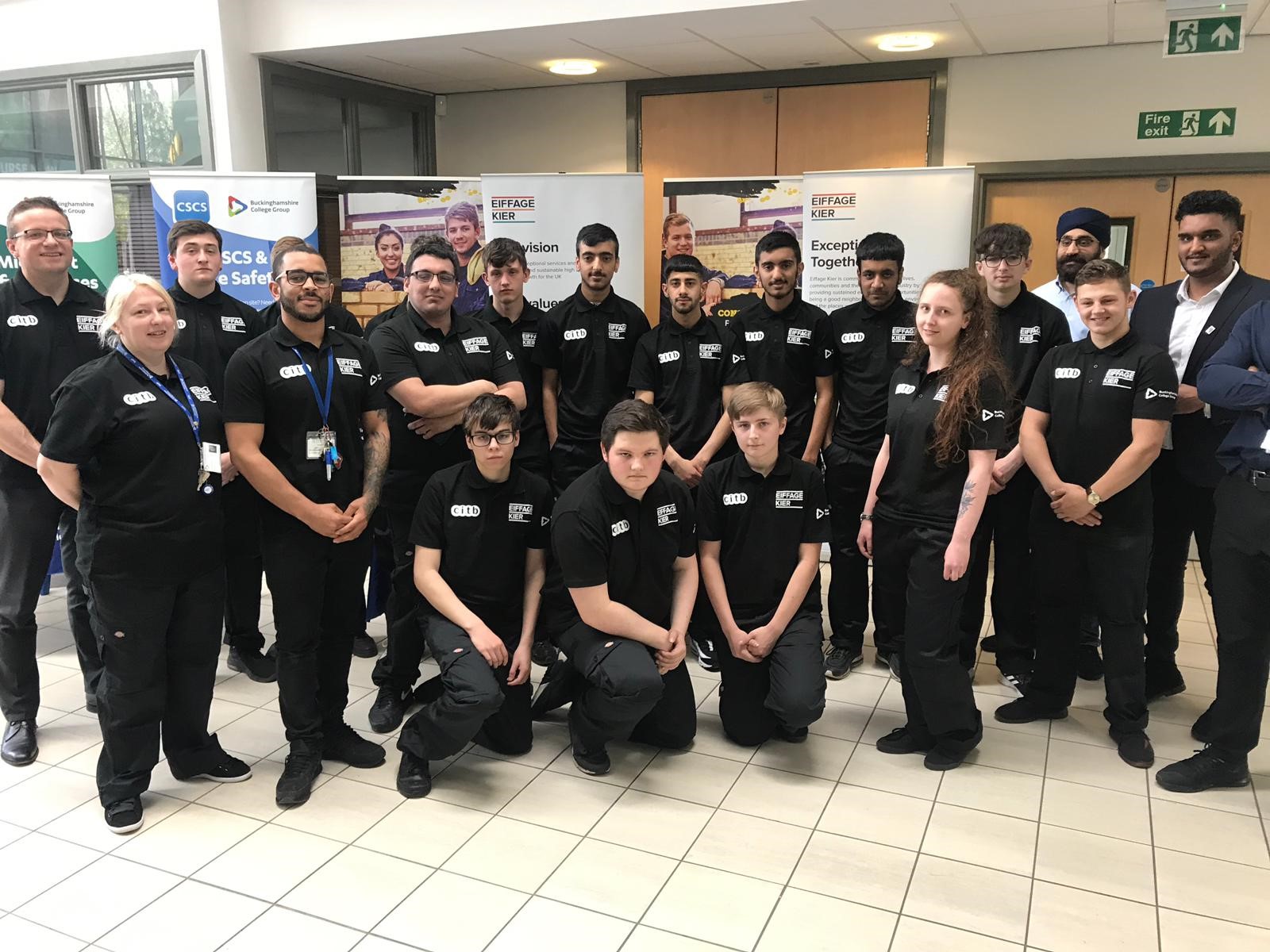 The first cohort of students on the free Entry into Construction programme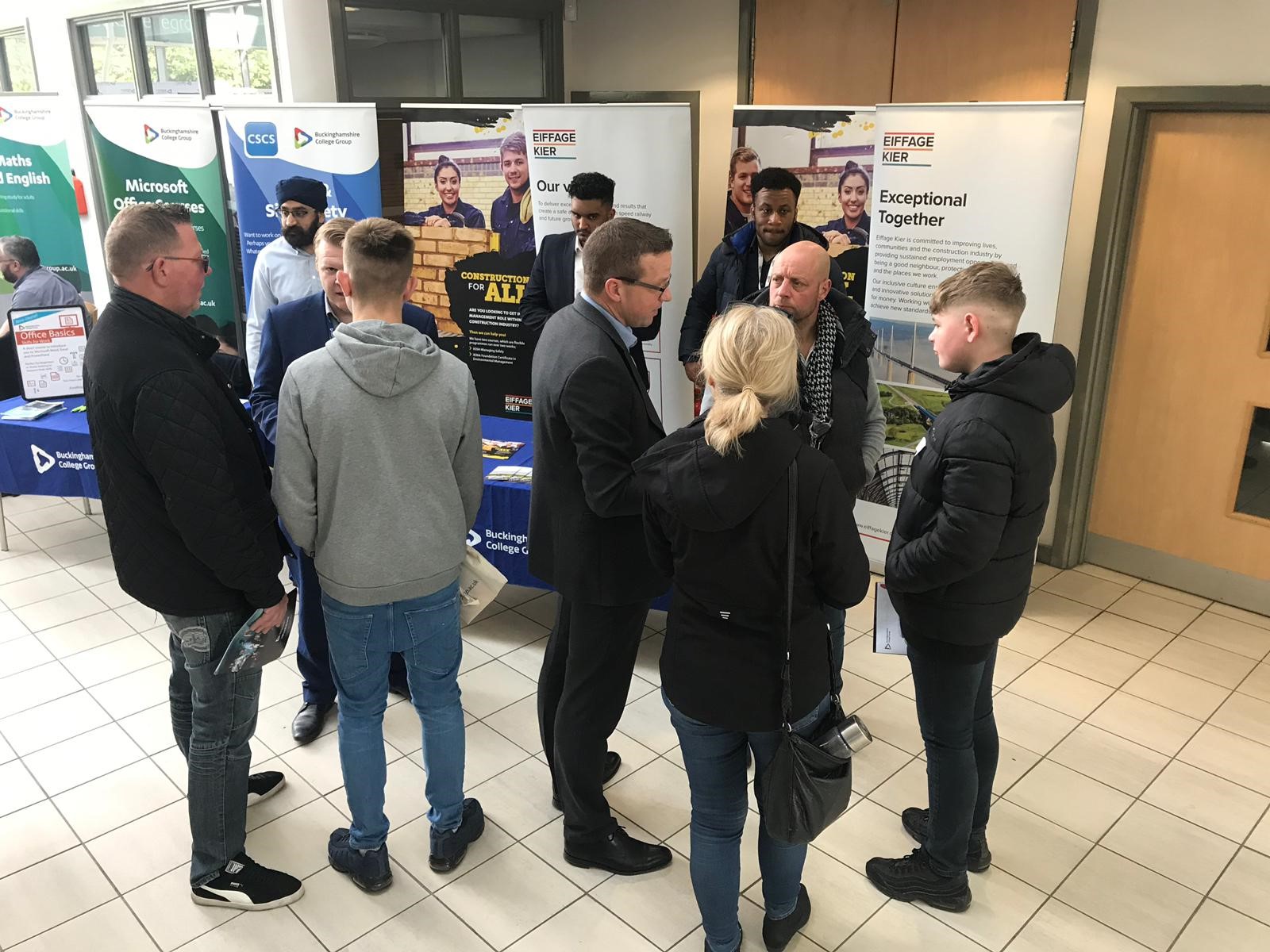 Lots of interest show at the launch event on Saturday 11th May at the Aylesbury Campus Open Day